Full dinners and sides serve 4 – 6. Half orders serve 2 – 3.
Individual orders are always available!  Stop in or call 724.443.1200 to see what's for dinner tonight.  Want it hot?  Just ask!  We happily accept requests, so please call ahead with special orders.  We can even fill your favorite casserole dishes.  Click the links below for printable menus.
All of our menu items are listed below.   You may quickly reach a section, by clicking the links below:
MONTHLY: Everyday Fare |  Premium Fare |  Gourmet Fare
ALL THE TIME:  Easy Fare | Side Fare | Soup Fare | Sweeter Fare | Party Fare | Bread Fare
Summer Fare Available all Summer for Picnics or for dinner.  Available in any quantity for 2 or for 150, just order in advance Prices adjusted accordingly.
Stop in to see what other salads are available on a weekly basis, or call to place a special order for your party needs.  Call us for additional dips and party fare, we are happy to assist!
We have lots of summer salads, so stop by or give us a call if you are looking for something different.  Special orders never upset us!
Everyday Fare
Our special monthly selections, guaranteed to be delicious. Full dinners serve 4 - 6. Half orders serve 2 - 3.
Asiago Polenta w/ Beans & Greens and Caramelized Onions
Amazing flavors and textures come together in this twist on Italian favorites.  A treat for the vegetarian in the family or the perfect side to your grilled items!
$ 27 ~ full | 14.50 ~ half
Bacon and Leek with Chevre Cheese Flat Bread
It doesn't matter if you are using this for a casual dinner or a fancy cocktail party, it will be the star attraction!   This is a perfect party appetizer.  These flavors transform something simple into something fabulous!
$ 27 ~ full | $14.50 ~ half
French Toast Casserole with Praline Topping
Perfect for breakfast on Christmas Morning or any morning!!!!  Psssst… some people might tell you it makes for a pretty good dessert, mmmmmmm  like Bread Pudding, maybe?
$ 27 ~ full | $14.50 ~ half
Italian Breakfast Casserole
Made with Italian Sausage, Peppers, Onions and Asiago Cheese with a shredded potato base, cooked in fresh eggs. A fabulous offering for Christmas morning, a holiday brunch, lunch or even dinner, your family and guests will feel special when they sit down to this decadent casserole! Just heat it up and enjoy this quick meal anytime of day!
$ 27 ~ full | $14.50 ~ half
Gourmet Fare
Gourmet special monthly selections. Full dinners serve 4-6. Half orders serve 2-3.
We do all of the work and you can take the credit!  Beef and mushrooms slowly cooked in Burgundy Wine, Maybe a little for the Chef as well?  Perfect meal to curl up with around the fire!
$ 35 ~ full | $18.50 ~ half
Cranberry Thyme Baked Salmon
Covered with a light honey base and finished with Panko Bread Crumbs, combined with Dried Cranberries and Fresh Thyme, this is the perfect dish to impress your dinner guests.  Great for any night of the week, or perfect to put on your party table as an appetizer.  Your always the hit of the party with this dish!!!
$ 35 ~ full | $18.50 ~ half
Easy Fare
These scrumptious dishes are always available in our freezer. Full dinners and sides serve 4 - 6. Half orders serve 2 - 3.
It is the perfect comfort food for a busy, cold day or evening dinner… and you didn't have to do a thing!
$ 27 ~ full | $14.50 ~ half
Homemade Pulled Pork Barbecue
Well, I tried to add some variety to the menu, but you all just kept asking for this to come back. So, you ask and we listen. Enjoy!
$ $27 ~ full | 14.50 ~ half
Large pasta shells are stuffed with ricotta and mozzarella and drenched in our homemade tomato sauce. Top with a little grated parmesan, add a Caesar salad and a loaf of warm Italian bread for a scrumptious meal.
$ 27 ~ full | $14.50 ~ half
Even better than Mom's, but it's all yours. Two – two pound loaves. Dinner's ready!
$ 27 ~ full | 14.50 ~ half
Home Made Macaroni and Cheese
I know you can buy it anywhere, but ours is fresh and tasty too. True comfort food!
Home Made Tomato Sauce with Meat Balls
Just like Grandma used to make. We have time to cook that sauce for two days. You just heat and serve. Pasta included.
$ 27 ~ full | $14.50 ~ half
Four Cheese and Meat Lasagna
You ask and we listen. This will be available on our Easy Fare menu every month.
$ 29 ~ full | $15.50 ~ half
Every kid loves them and we make them from fresh chicken with no preservatives!
Low Fat & Gluten Free Lemon Chicken
This is a combination of all of the wonderful flavors that make our Lemon Cream Chicken so special, but without all of the calories or any of the gluten.
$ 29 ~ full | 15.50 ~ half
Chicken in Lemon Cream Sauce
This is our signature dish and can always be found on our menu. Amazing combination of Chicken, Artichoke Hearts, Mushrooms, Capers and Bacon all brought together with a rich creamy Lemon Sauce.
$ 29 ~ full | $15.50 ~ half
You just can't seem to get enough of this and some say it's the best thing we make.  In honor of you, Mom.  Creamy chunks of chicken topped with cheddar cheese and finished with a crunchy bread topping.
$ 27 ~ full | $14.50 ~ half
Side Fare
Ready to be paired with any of our main dishes. Sides serve 4 - 6.
Just a little something different to pair with any meal you like.
Caramelized Onion Brown Rice
A colorful side that adds flare to any dish!!!  Colored Peppers and Herbs grace this dish, adding color and flavor.
Artichoke Smashed Potatoes
We have had multiple requests for the return of this tasty side dish.  These potatoes truly make every meal a little more special!
Fare At Home Vegetable Blend
A blend of green beans, peppers and asparagus with herbed butter that everyone enjoys!
A Different Kind of Bean Salad
This is a combination of Black Beans, Corn, Edemame, Chick Peas, Scallions and Fresh Herbs, combined with light vinaigrette. Eat it cold or hot, it's a perfect complement to any meal.
Soup Fare
Homemade soups to warm you up inside and out. Served by the quart.
Mediterranean Chickpea Soup
A delightful combination of flavors come together to create this vegetarian soup. Another treat from our "Chef" Carly. The perfect first course for a dinner or the just right in front of the fire for a quick dinner.
Rich chicken stock filled with meatballs, spinach and veggies is the perfect comfort soup. Serve with crusty rolls and salad for that simple dinner that reminds you of Mom's love!
Sweeter Fare
Treat yourself to delicious desserts. Give us a call and see what we have created today!!!!
4 Dozen Holiday Cookie Tray
*Must Pre-Order*  Visit Perfect Pastry/ Sweet Morsel's web site at www.asweetmorselco.com for exact kinds of cookies on each tray. Orders must be in by Dec. 15. I will have some trays for sale beyond then, but there are no guarantees.
Popular and delicious, the perfect ending to any dinner. Light and tasty!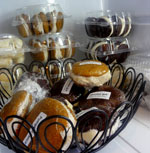 Assorted Desserts from our kitchen to yours along with assorted desserts and cookies from The Perfect Pastry and Grandma Ann's Nut Bread, Twirly Girl Baking Co., and Pretzel Crazy.
The Perfect Pastry products include: Famous Lady Locks, $8.50 per 15 Chocolate Gobs, $8.50 per dozen -OR- $3 for 4, and homemade cookies.
Julie's Rosemary Pretzels: small $6.50 large $12.50
Party Fare
A beautiful selection perfect for any party. ALL SOLD BY THE DOZEN.
Caramelized Onion & Bacon Jam Tart
Southwestern Black Bean Empanada
Wild Mushrooms in Phyllo Pouches
Mini Crab Cakes w/ Lemon Caper Aioli
Thai Chicken Sates with Thai Peanut Sauce
One for the record books. It is loaded with raisins and topped with Sugar!  Special orders are welcome if you don't want raisins or would like us to add traditional caraway seed.
Portuguese Corn Bread Mini Boule
* Consuming raw or undercooked meats, poultry, seafood,  shellfish, or eggs may increase your risk of food borne illness. *