Full dinners and sides serve 4 – 6. Half orders serve 2 – 3.
Individual orders are always available!  Stop in or call 724.443.1200 to see what's for dinner tonight.  Want it hot?  Just ask!  We happily accept requests, so please call ahead with special orders.  We can even fill your favorite casserole dishes.  Click the links below for printable menus.
All of our menu items are listed below.   You may quickly reach a section, by clicking the links below:
MONTHLY: Everyday Fare |  Premium Fare |  Gourmet Fare
ALL THE TIME:  Easy Fare | Side Fare | Soup Fare | Sweeter Fare | Party Fare | Bread Fare
Summer Fare Available all Summer for Picnics or for dinner.  Available in any quantity for 2 or for 150, just order in advance Prices adjusted accordingly.
Stop in to see what other salads are available on a weekly basis, or call to place a special order for your party needs.  Call us for additional dips and party fare, we are happy to assist!
We have lots of summer salads, so stop by or give us a call if you are looking for something different.  Special orders never upset us!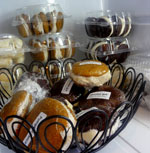 Assorted Desserts from our kitchen to yours along with assorted desserts and cookies from The Perfect Pastry and Grandma Ann's Nut Bread, Twirly Girl Baking Co., and Pretzel Crazy.
The Perfect Pastry products include: Famous Lady Locks, $8.50 per 15 Chocolate Gobs, $8.50 per dozen -OR- $3 for 4, and homemade cookies.
Julie's Rosemary Pretzels: small $6.50 large $12.50
* Consuming raw or undercooked meats, poultry, seafood,  shellfish, or eggs may increase your risk of food borne illness. *